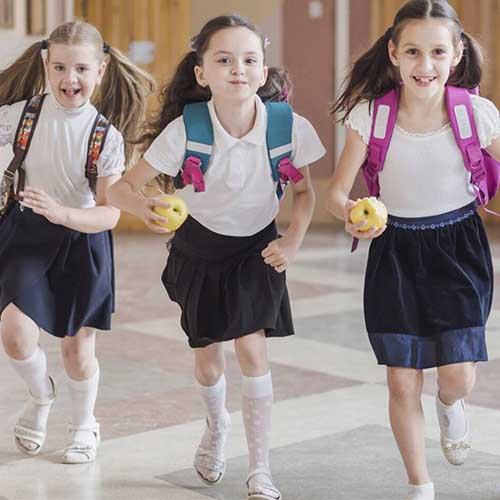 school uniform supplier in dubai
April 20th, 2020 By admin school uniform supplier
5 Hot Design Trends By Top School Uniform Manufacturer In Dubai
One of the biggest requirements of any new educational institution is a perfect uniform solution. Organizations try to find entities such as a reliable school uniform manufacturer in Dubai to devise an ideal dressing scheme. Things have changed drastically from the past when schools simply selected from a limited palette of colors to design their students' apparel. Now, organizations want their pupils to be covered in stylish clothing that reflects modern design trends. In this post, we are discussing some of the hottest school uniform design trends in recent times. These fads have been curated by top designers that specialize in creating educational dressing solutions. They have included these trends not only because of their style quotient but also because of their practicality. You can integrate these elements into your institution's apparel to create a smart and savvy look.
1. Logo On Bottom Wear
The logo of an organization can be usually seen on the shirts and blazers of the uniform. Most institutions like to place their unique symbol along with the motto on the pocket of the shirt. This ensures that the logo is hard to miss and helps in boosting the brand visibility of the organization. However, a new trend has been seen in recent times where the logo is being placed on the bottom wear such as skirts and trousers. The main reason for this has been the tendency of students to experiment with this part of their uniforms. Since there were no unique identifiers on pants and skirts, individuals could source them from anywhere which resulted in different shades and sizes of the apparel. This affected the institution's objective of creating a consistent outlook. You can also ask a reliable school uniform supplier in Dubai to provide trousers, shorts, skirts, and other bottom wear items with your logos.
2. Tartan Patterns For Skirts And Trousers
Tartan patterns are becoming increasingly visible in school dresses. They are being used mostly in designing trousers and skirts. The pattern is created by crisscrossing horizontal and vertical lines in various colors. Similar to checks, these patterns were originally created by weaving woolen fabrics. But now you can see them being used in clothes made from other materials as well. As mentioned before, the pattern is being used mostly for designing the bottom wear. Some schools are using them in tunics as well. Organizations play safe by teaming up the tartan trousers/ skirts with simple, plain white shirts. However, top educational uniforms manufacturers and suppliers in Dubai say that you can also use shirts in earth tones with contrasting tartan bottom wear.
3. Bomber Jackets Instead Of Blazers During Winters
For long, blazers have been the norm in winter apparel for schools. However, many institutions are using bomber jackets instead of blazers in their winter uniforms. There are multiple reasons for this trend to gain popularity. A jacket is easier to wear than a blazer for little children and also allows greater ease of movement. Once zipped, it provides effective protection from the weather and enables the user to easily conduct different activities. You can ask your school uniform manufacturer in Dubai to create custom bomber jackets for your pupils. The agency will stitch your logo on the jacket as well as integrate your stripes on the cuffs and waistband of the apparel.
4. Round Neck T-shirts For Sports Uniforms
Schools are increasingly looking for dressing solutions that offer comfort and ease of movement to their pupils. This is the reason you are seeing round neck t-shirts instead of ones with collars in sports dresses. A round neck shirt prevents sweating around the neck area of the wearer. If made with modern breathable sweat absorbing fabrics, they provide more comfort than the usual sports kit. More and more organizations are switching to this design. Some of them are also using open collar shirts with a few buttons to acquire a distinctive style. Hire a school uniform supplier Dubai with great expertise for creating such garments for your organization.
5. Unisex Kits Instead Of Gender-specific Dresses
Traditionally, educational institutions have created gender-specific solutions for their pupils. Shirts and trousers for boys and skirts or tunics for girls have been part of the dress codes of numerous schools. But a new trend has been seen where organizations are opting for unisex kits. This means that both boys and girls are being clothed in identical shirts and trousers. However, you must be careful while experimenting with this trend. First, make sure that the cultural sensitivities of the parents/ guardians of the pupils are not affected by the dress code. Moreover, you have to find the best school uniforms suppliers in Dubai who can create the dresses on a large scale while ensuring that the fitting is perfect for both genders across all age groups.
Why Golden Quality Uniform Is The Best School Uniform Manufacturer In Dubai?
You can easily leverage these trends for your benefit if you find the right dressing partner. Golden Quality Uniform is the best school uniform manufacturer in Dubai that services all types of educational institutions. The company caters to organizations based in all the Emirates such as Sharjah and Abu Dhabi. It has a team of specialist educational uniform designers who are skilled at creating stylish and comfortable apparel. Contact the top school uniform manufacturer Dubai to create modern dressing solutions for your pupils.